Hi there,
I'm hoping to put together a picture of my Wife's grandfather's war time service and a bit of Googling means this is my first stop ...
I'd be grateful if anyone could translate the information on the following document which appears to be a copy of his service record - I only have a scan of the documant so unfortunately I'm unable to clarify any letters or words that might be unclear,
I know very little Italian so here's my take on it -
He joined the 55th Reg 'Brescia' Artillery Division, then there is a bit I'm slighty confused about - the mention of the ?8th reg Artillery '???o' ?
His service number was : 4938/341?
Went operational in June of 1940? and I guess he was captured 20th January 1941?
Discharged in Taranto 1946?
here's the paperwork: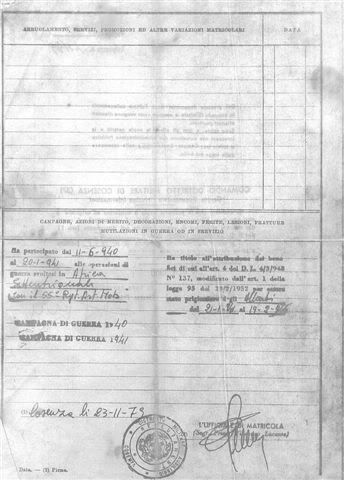 Tony ended up as a POW in South Africa before coming to Scotland where he started a little Italian empire of his own
Any info grately appreciated.