Dear all,
I'd like to find the descendant of this uncle of mine,

familysearch code GZKR-V4G

Any help is appreciated

regards
Paolo
Elite

Posts: 387
Joined: 03 Jun 2012, 22:28
Location: Cocoa, Florida
The Patriot Ledger, a Quincy Massachusetts newspaper, published this birth notice on September 10, 1931:

"Mr. and Mrs. Giacomo Durante of Maple Street, East Weymouth, are parents of a daughter, born at the Weymouth hospital, Tuesday morning."

This couple seems to have had two children by 1942, because a court notice published in the Patriot Ledger mentioned them. One of the children was named Eleanor who was five-and-a-half years old in the 1942 article.

A 1958 article in the Boston Herald mentions Eleanor Josephine Durante's marriage; the article said she's the daughter of Mr. and Mrs. John Durante of East Weymouth.
Thank you for your help,

I'll try to find further records about the the sons of my ancestor.

have a nice day

Paolo
Elite

Posts: 387
Joined: 03 Jun 2012, 22:28
Location: Cocoa, Florida
Hi, seeming that your Giacomo had also another wife before of Rosa Cassetta, named Teresina:
https://i.postimg.cc/G26z67Jc/007774785-01171.jpg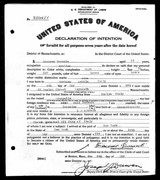 I found these children:
Vincent Joseph Durante
1927–2020
Julia Mary Durante
1928–2000
Rita Minnie Durante
1931–2019 ; obituary: Rita D. (Durante) Welch of Weymouth, died September 6, 2019. Rita was a lifetime resident of Weymouth, the daughter of John Durante and Rose Cassetti, born September 8, 1931. She was an active woman who enjoyed days at the beach, bowling, playing bingo and spending time in her beautiful garden tending to her flowers. Most of all she loved spending time with her amazing children and will be missed by all who knew her. She was the loving wife to the late John R. Welch; loving mother to Rita M. Welch of Weymouth, Michael Welch of Pembroke, Richard Welch of Weymouth, Robert Welch of Weymouth, Paul Welch of Weymouth, James Welch of Weymouth and late John Welch of Weymouth; grandmother to Randy M. Welch and Emily R. Welch; sister to Ernie Durante, Frankie Durante, Vincent Durante and Eleanor McCarthy. All services will be private. See
www.Keohane.com
for directions and online condolences or call 781-335-0045.
hoping helpful,
suanj
The envious is like the cuckoo. Try to appropriate the merits of others. He never starts a difficult search, having no skills, but puts his egg in other's nest.
----------------------------------------------
Visit my website:
ITALIAN ORIGIN SEARCH

Onomastico
Yesterday :
s. Matteo
Today :
s. Maurizio
Tomorrow :
s. Lino, s. Pio da Pietralcina