Hope everyone has a wonderful Easter....and remembers the day as one of hope. One of triumph over tragedy. A day to celebrate living.

We keep the families of earthquke victims in our hearts and prayers. We know that comfort will be long in coming, but eventually it will rise up and leave much of the hurt behind, a heavy heart no longer.


A blessed Easter to one and all.
---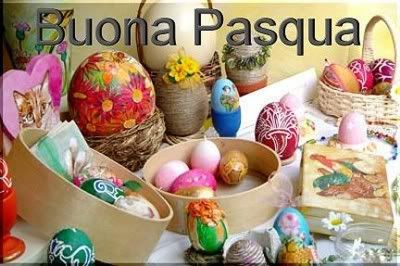 Happy Easter!
Valarie
---
Happy Easter to all!
suanj
---
Master

Posts: 502
Joined: 30 Apr 2008, 00:54
Location: Colorado
Buona Pasqua to all!!!!!!!!!!!!!!!
Michael Romano

Chi va piano va sano e va lontano

Those who go slowly, go safely and go far

Looking for family history in Piazza Armerina, Aidone, and Musomelli Sicily.
Names researching: Romano, Nigrelli, Ristagno, Piazza Maida Triolo.
---
Rookie

Posts: 56
Joined: 05 Apr 2009, 03:48
Contact:
---
Master

Posts: 6817
Joined: 16 Dec 2007, 18:57
Location: Yonkers NY
HAPPY EASTER ...... BUONA PASQUA

TO EVERYONE

=PETER=
~Peter~
---
Hope everyone had a wonderful Easter day!!
Lee
___________________________

"Cambiano i suonatori ma la musica è sempre quella."
---
Buona Pasqua a Tutti!!

I called Italy cousins today and had a great conversation. Makes me wish I was there.


Regards,

Trevisan2
Researching in the provincia di Treviso, Italy, Provaglio Sopra, Val Sabbia of Brescia.
Domege di Cadore, Cavalo, Fumane, Verona

Forno di Rivara, TO, Canischio, TO
---
Hope you all had a Happy Easter!

nuccia - IG Moderator
Gente di Mare
Gente Italian Genealogy Forum


Extractions of various Comuni in Reggio
---
Who is online
Users browsing this forum: Baidu [Spider], Google [Bot], Google Adsense [Bot], Majestic-12 [Bot] and 22 guests

Onomastico
Yesterday :
s. Giacomo il Maggiore
Today :
s. Anna, s. Gioacchino
Tomorrow :
s. Celestino I