Elite

Posts: 364
Joined: 07 Aug 2009, 20:34
I am printing off microfilm data from the family search office. There are so many palmieri's, and all I really know at this moment is my grandfathers name, his fathers name and his mothers name. Well, the comune also.
So, since the films are rented, I print every name that could be them. i just figure that when I find out my great grandfather's-father's name, then, I can just go back to all my printouts.
Anyhow. I found these few records of people that i know have the same name.
Can anyone help me translate. I have asked before, and am keeping good records. But, I have absolutely no knowledge of the language or dialect.
I really appreciate all the help everyone gives me.
Also, I have a question--there is so much writing on some of these documents:
Here is my question--there is a spot on the document that reads:
provincia de terra di lavore, e compars ______________________(name) figli di ____________
What is that name in that section for? Is that the father? If so, I found a boatload of one name listed on like--every document on one comune today. I think he/she was listed on 6 out of 10 in a row. Maybe there are just many people with that name. But, it was Palmieri, so I am confused.
I guess I need a lesson, also, in Italian documents. I am printing of a bunch of info someone gave me earlier about record extraction from Italy, as we speak. Hopefully, I will be learning a bunch from that.
It feels like I am in school all over again! Yikes!
Here is the link to the documents. Thank you so much for all your help!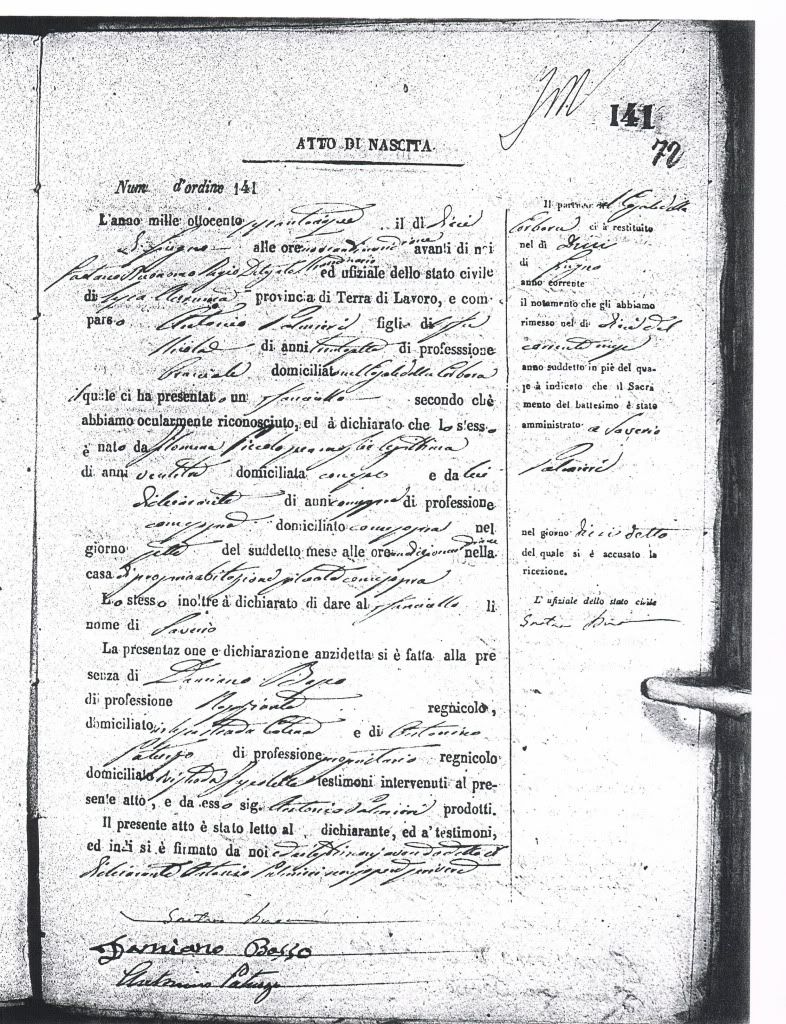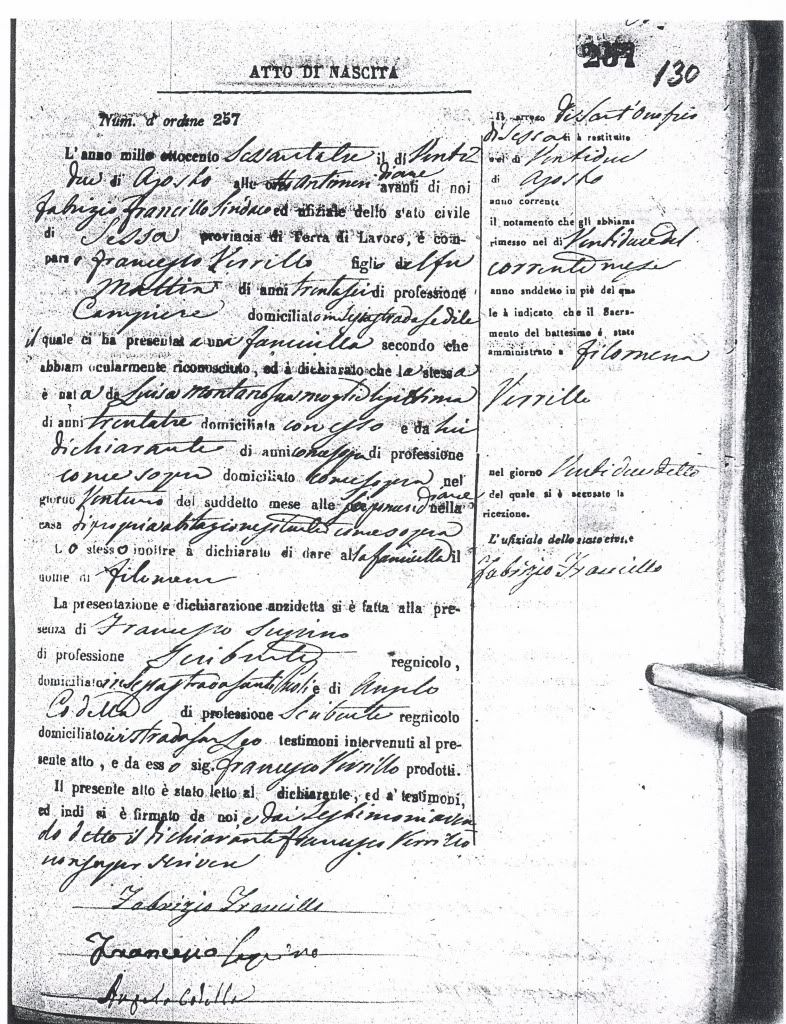 ---
Researching Trabia, Palermo surnames Adelfio, Bondi, Butera, Scardino,Rinella, Scardamaglia

Marty
---
In the first record, Antonio was the son of deceased Nicola. He was a bracciale or farmhand/day laborer and was 37.

In the second, Francesco was the son of deceased Mattia (although the last letter does not look like an a). He was 36 and a field worker, as Marty stated.

Peg
---
Here is one of my birth acts translated

Act Of Birth

In the year one thousand eight hundred and ninety-four on the seventeen day of the month of September at the hour of nine twenty before us Gatto Nicolo mayor officer of vital records for the Comune of Trabia in the district of Palermo appeared Adelfio Mariano age twenty-six peasant farmer son of deceased Giuseppe age 54 peasant farmer and Rosalia Rinella age 49 living in Trabia who presented us a female that we visibly witnessed and he declared Adelfio Giuseppa was born in the house in San Nicolo on the seventeen day in the morning on the month and day stated above and the child of the person making the declaration and his wife Butera Giuesppa age 22 housewife daughter of Antonio age 49 profession fisherman and Giuseppa Scardino age 47 living in Trabia

Both of these residents of Comune of Trabia have witness this act of birth

Luigi Squarino
Diego Dorma
Marty A
Researching Trabia, Palermo surnames Adelfio, Bondi, Butera, Scardino,Rinella, Scardamaglia

Marty
---
Who is online
Users browsing this forum: Baidu [Spider], Yahoo [Bot] and 6 guests

Onomastico
Yesterday :
s. Liberata
Today :
s. Mario e fam.
Tomorrow :
s. Sebastiano