My Great Grandfather Rosario Baiocchi emigrated from Liverpool England when he came over to the US. Born in Montorio al Vomano, Teramo, Abruzzo, Italy and emigrating when he was only 16, of course lying and saying that he was 18. Why emigrate over 1200 aprox miles away from home, out of England rather the 200 aprox miles from home in Montorio to Naples?
I have noticed other immigrations from Liverpool within my Italian Family (unrelated to him)
Would anyone know of reasons to emigrate from England rather then Italy? I would love to hear everyone's thoughts and theories.
Passenger List Line#15
Pg1
http://search.ancestry.com/iexec?htx=Vi ... 4014560428
Pg2
http://search.ancestry.com/Browse/BookV ... o+Baiacchi
Infante, Cella or Celli,
Bagnoli Irpino, Avellino
---
Master

Posts: 691
Joined: 21 Sep 2009, 18:18
Location: Bristol, England, UK
Contact:
I think many Italians took the UK as their 1st choice of a better life, but knew the US was a better option and has more to offer. He may have also had Family in the UK and then made enough money to sail to the US.
I found a Teresa Baiocchi in Hendon, London who married a Silvio Bamattre in 1911.

I can not view the manifest as i do not have access, but can you send the images?

Jamie
NAMES
: Capaldi-Tedesco-Tamilio-Minchella-Verrecchia-Tomasso-Franchitto-Innelli-Arpino-Caringi-Colacicco-Macari-Pinchera-Salera-D'Orazio-Ambrosino-Di Mambro-Sigliocolo-Masello
PLACES
: Cassino- UK, USA, Ireland, Canada & Australia
http://www.cassino-families.co.uk
---
That would be a possibility and would make sense, although i don't know of any other family beside him and his sister; Maria Giovanna Baiocchi who married Carino Carlo D'Angelantonio. Their parents were Giuseppiantonio Baiocchi and Maria Giuseppa Cantarelli.
http://i1287.photobucket.com/albums/a63 ... afbd82.jpg
http://i1287.photobucket.com/albums/a63 ... 46a527.jpg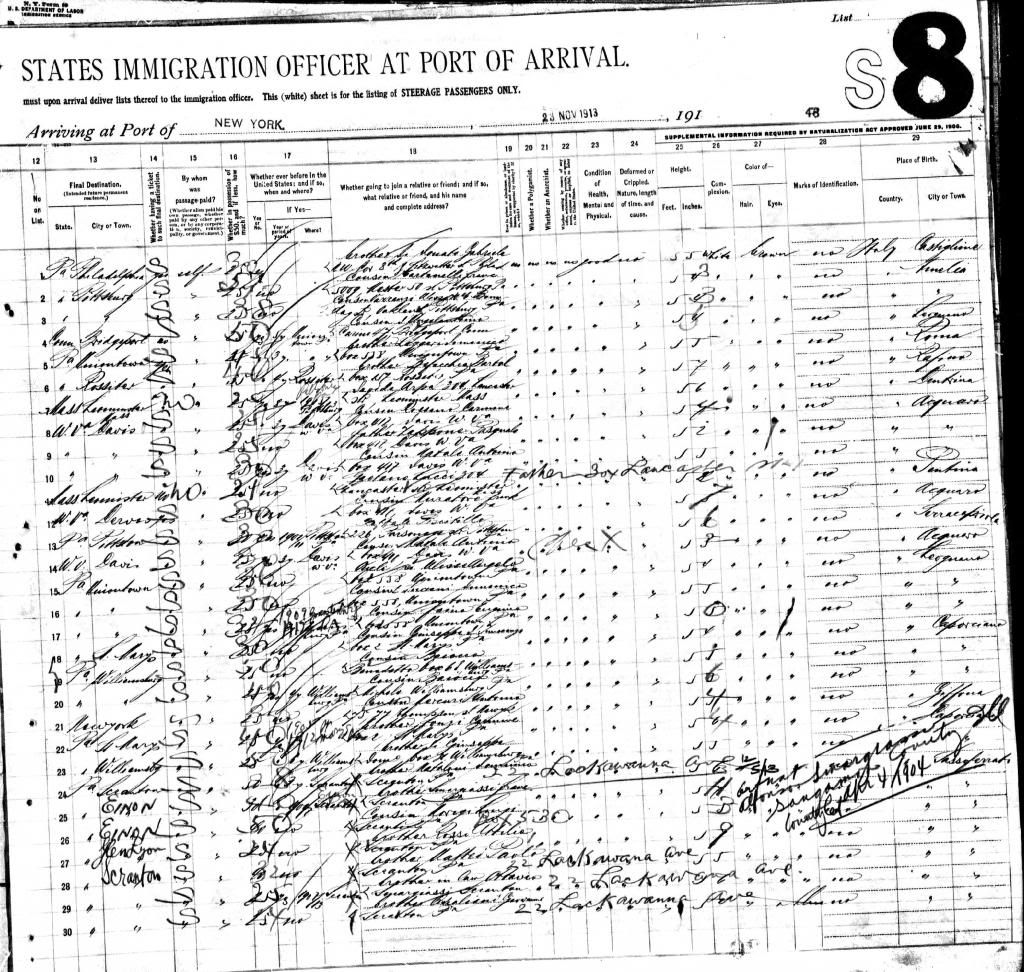 Infante, Cella or Celli,
Bagnoli Irpino, Avellino
---
Who is online
Users browsing this forum: Baidu [Spider], Google [Bot] and 26 guests

Onomastico
Yesterday :
s. Celestino I
Today :
s. Nazario
Tomorrow :
s. Marta