This picture is of my 3xs great grandfather Michele Infante born 13 May 1866 in Bagnoli Irpino, Avellino, Campania, Italy to Lorenzo Infante (b: abt 1836) & Concetta D'Urso.
One of my distant cousins whom I have connected with via Ancestry.com has possession of this picture.
I know from 1895-1902 Michele Infate was in Niles, Ohio along with his brother Raffaele. Then was in Italy for a few years then in 1909 he was living back in Niles, Ohio and this is where my research for him ends.
I know nothing about this picture, I am assuming it is an Italian Military that he is outfitted in . I am here looking for help in trying to identify the outfit and items around him, what they mean, branch ect.
Also if he was part of the Italian Military- are there records/info and if so how would i go about locating them.
Thanks in advance - I am excited to here what yall have to say about this wonderful picture!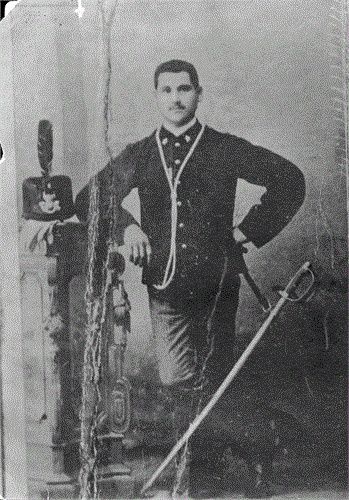 Infante, Cella or Celli,
Bagnoli Irpino, Avellino
Ciao Tikibar,
I am by no means an expert, but I'm a former US Army captain, and your post caught my attention - I love military history.
The first thing I notice is that Michele is posing with a saber, not a rifle, which could indicate he was an officer and not an enlisted soldier. Going off that hunch, I found this site, which seems to substantiate that notion. All the officers in the drawing have sabers.
http://www.patriotfiles.com/forum/showt ... p?t=110041
I am also thinking he could have been cavalry, based on the saber plus the high boots and the rope he wears. But those hunches may not hold much water because maybe all soldiers had similar boots? Also, even the US branches have decorative ropes as part of the dress uniforms.
Sorry I don't have more info...
Newbie

Posts: 1
Joined: 26 Jan 2021, 19:38
Those who work at the historical center have made a mistake when naming these men.. even the the short mustache man is an Infante.. i believe it was a family member of Michael. Michael is the 2 from left.. standing tall and proud .. he was 1of 3 skilled workers making Fire Brick.. Youngstown historical center have the payroll books that confirm his work history and that him and 2 others were sent back to Italy to recruit workers.
You do not have the required permissions to view the files attached to this post.


Onomastico
Yesterday :
s. Aniceto
Today :
s. Galdino
Tomorrow :
s. Emma di Gurk