Elite

Posts: 469
Joined: 07 Aug 2009, 20:34
Ok, I was going through my records, and recording the information on the birth record of Filomena verrillo that I had you all translate a few days ago.
Now, I am confused, and hoping someone may shed some light on this.
I sent you a record of birth for Filomena Verrillo--
Father Francesco Verrillo, mother Luisa Montano. Born on April 17, 1860
The record is numbered at the top: Numero di Ordine 129
Here is that record copy again: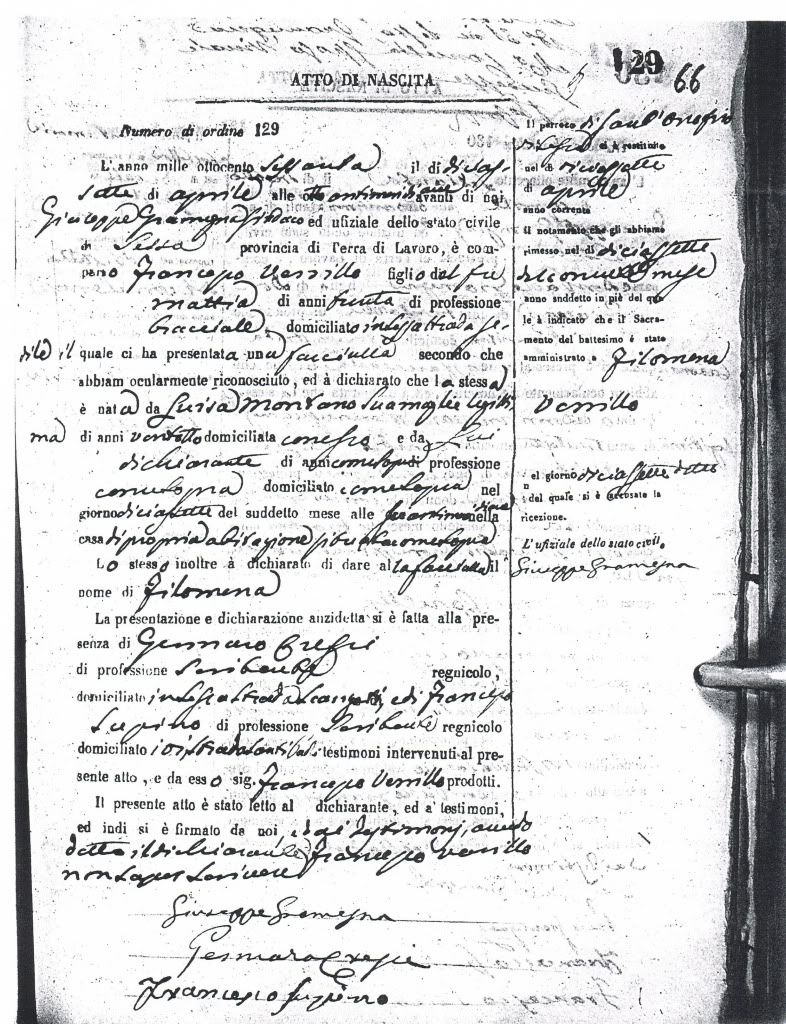 Now, I also have this record:
It states That Filomena Verrillo was born to Francesco Verrillo and Luisa Montano
But the record number of this Atto Di Nascita is 257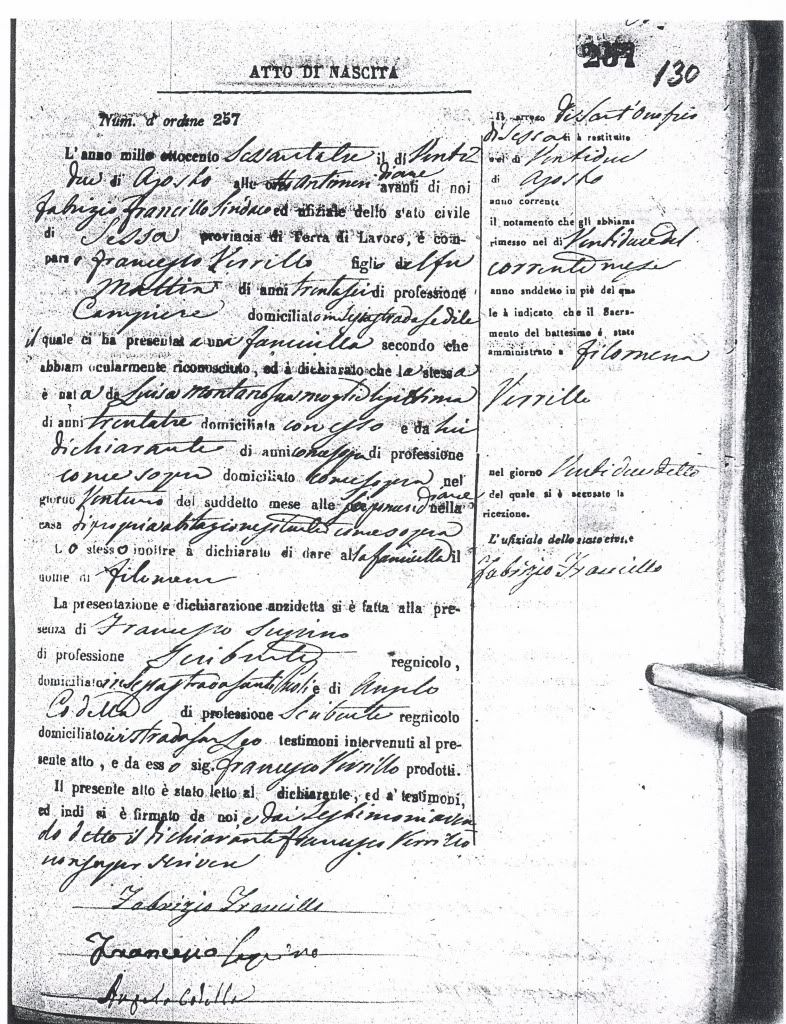 Maybe I am reading something wrong, but if someone could help me out on this, I would very much appreciate it.
Could it be possible to have two Filomenas born to the same family? Or is there a greater chance that these are just two seperate families.
Help!

---
#129 is from April 1860
#257 1863 August
Most likely the first Filomena died and they renamed the second baby Filomena also it happen quite a bit in those days Filomena must be a special name to them. Check the death records 1860-1863
Marty
Researching Trabia, Palermo surnames Adelfio, Bondi, Butera, Scardino,Rinella, Scardamaglia

Marty
---
Elite

Posts: 469
Joined: 07 Aug 2009, 20:34
Thank you! Just curious also, this has nothing to do with these records. But, I have written letters over the last year to Italy to the comune where I want a state of the family certificate. I have gone up in requests, to the highest one (I cannot remember right off hand what his title is), but I have never heard anything back.

Is there anything I can do to get them to send me back the records i am requesting? Can I fax them, or email them, or something? I am anxiously awaiting and hearing nothing. I got one record from my grandfather, but the rest that I have requested through the same office (I only requested 2) have not been sent. Any ideas????
---
You do know that in most comunes and provinces the stato di famiglia is not kept. They have to go through the records to produce a state of the family record. So whats the chances of that happening. You are better off through Family History Library films before writing for acts birth marriage and death records to the comune.What town are you trying to get records from? Did you send photo id with request and are the dates precise. Do they have email access?
Stato di famiglia is a great thing for family researching but its alot of work for the city worker. Could you see sending a letter to a US town asking them to go through there records to find the status of a family that lived there in the 1800's? I dont think its happening.The thing about sending for records you have to be polite and precise and informed not run on with needless info. Good researching
Marty

Researching Trabia, Palermo surnames Adelfio, Bondi, Butera, Scardino,Rinella, Scardamaglia

Marty
---
Elite

Posts: 469
Joined: 07 Aug 2009, 20:34
Thanks Marty
I took the letter off some Italian website that you put the information in and it translates for you, then just print it. It seemed pretty nice. But, I did not put my photo id. Does that help? And, the year was a guess on one of them.

When I get on Family search I can only find one birth record for Filomena, and it is the 1860 birth, not the 1863. I can find a brother, Antonia Verrillo, also. But, no death record.

Any ideas on what I should do now? Does either one of these records have a comune or town--I think they are both Sessa. Can I write for one birth record of Filomena from 1863 and one death record from 1860? Or, how / what should I do next.

Thank you!
---
What I would do is send for one death record for Filomena Verrillo 1860-1863

Egregi signori,
Mi chiamo (YOURNAME). Sto facendo una ricerca sui miei antenati e ho biosgno delle informazioni dai vostri registri.
I miei antenati provennero da Sessa Aurunca.
Nome e cognome: Filomena Verrillo
Data di nascita: 1860
Potreste cercare l'atto di morti di questa persona nei vostri registri dal 1860 fino al 1863?
Vi prego di informarmi se sia possibile ottenere delle fotocopie dei vostri registri e di farmi sapere il costo delle copie.
Se non avete i registri corrispondenti, potete fornire l'indirizzo dell'archivio dove in cui i registri possano essere trovati?
Vi ringrazio in anticipo per il vostro gentilezza e premura.
Distinti saluti,
Your name address and email

Marty
Researching Trabia, Palermo surnames Adelfio, Bondi, Butera, Scardino,Rinella, Scardamaglia

Marty
---
Who is online
Users browsing this forum: No registered users and 7 guests

Onomastico
Yesterday :
s. Giacomo il Maggiore
Today :
s. Anna, s. Gioacchino
Tomorrow :
s. Celestino I