Can anybody help with the areas that are marked in red boxes? Hope this is right. Seems like I always have trouble figuring out how to link to the photo: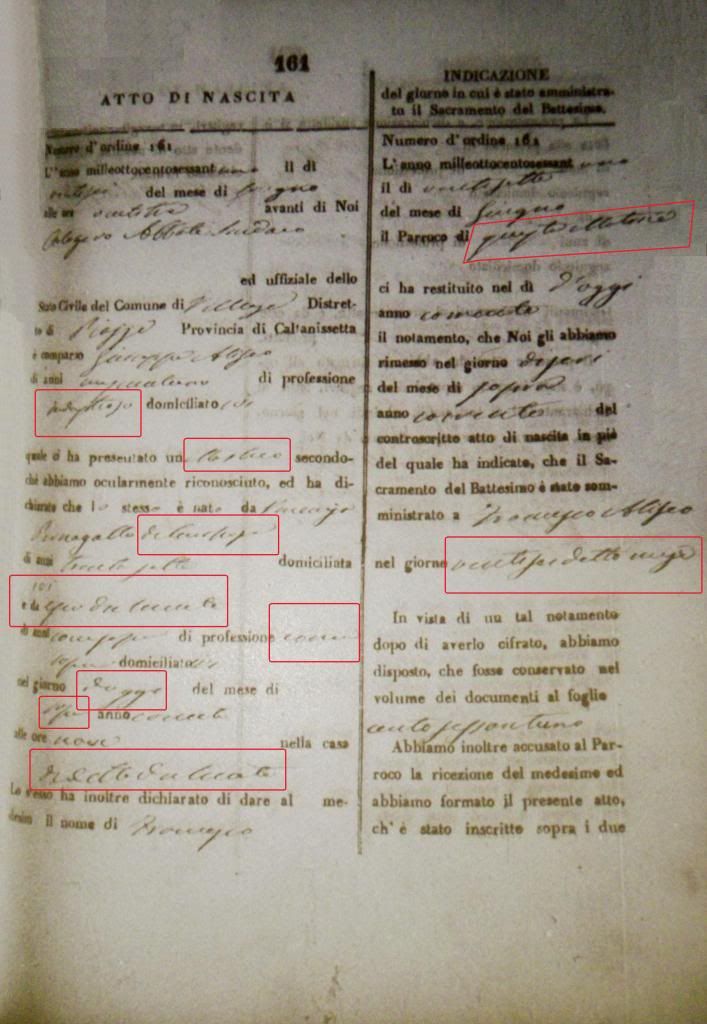 Thanks.
---
Can't enlarge your photo without lots of distortion

Can you try posting it using an image-sharing site such as
http://postimage.org/
Browse to open your image, check "family safe", then UPLOAD
COPY the "Thumbnail for forum (1)" and PASTE it here...
For starters... here's what I CAN read...

(top to bottom)
profession - ?
next looks like "maschio" - "male child"
next is "di ????" (it would be her [Vincenza's] father's given name- "of ...")
next states that she lives with the "declarant" (dichiarante)
profession "come sopra" - meaning "as stated before
giorno "oggi" - meaning "today"
mese di "sopra"? - meaning "above"
alla casa "di detto dichiarante" (???) - house "of the declarant (Giuseppe Aliseo)"
Right colum.....
Parroco di "questa ????" meaning Parish of "this ????" -[looks like ANTONIO to me]
nel giorno "ventisei detto mese" - meaning 26th of the aforementioned month"
T.
---
Master

Posts: 5742
Joined: 13 Feb 2004, 00:00
Location: Rome, Italy
Contact:
---
OOPS!!!

I guess I just like the way I can enlarge at "postimage"

Thanks, Livio!
T.
---
Thanks for the help. In a prior suggestion somebody suggested using Photobucket, so I always have. I didn't realize you couldn't enlarge the document in Photobucket? I know it helps to enlarge. I enlarge, and edit all the time trying to find what is easier to read/make out. I will take your suggestion Tessa and try PostImage next time.
---
Who is online
Users browsing this forum: Google Adsense [Bot], verdi_6 and 8 guests

Onomastico
Yesterday :
s. Lorenzo da Brindisi
Today :
s. Maria Maddalena
Tomorrow :
s. Brigida di Svezia