I found a census from Canada with who I think are my great-great grandparents on it. His name is Paul Lafreniere, and hers is Philomene Chameau. The ages are so close, and the fact they are on the same census makes me want to believe that its them. Im having trouble confirming this because I know nothing About Paul Prior to his coming to the U.S. I don't know his parents or siblings names. My questions are these: Do names on a census that are close together mean they have a relation.. or lived nearby? If there are other Lafreniere names near Paul's, does this mean they are his family? I ask because their names aren't DIRECTLY next to each-other, there is one name in between. There is something written in a box for ONLY Paul and Philomene and I can't read it.. can anyone with French and good eyes tell what it says? Also I'd like your general opinion about if there is a relationship judging by this census page?
Some info:
Paul Lafreniere - Born: about 1838 in Canada. I don't know where. Died in 1932 in Michigan. He had at least 4 children with Philomene Champeau, all born in Canada. We believe they had 2 more children that initially stayed in Canada, not sure if they ever came to the U.S. Childrens names were: William, John, David, and Alexander. The 2 others we aren't sure about are named Matilda and Paul. 1900 census says they came in 1888, they went to the Alpena/Presque Isle area in Michigan. Philomene was born in 1838, at St. Timothee in Beauharnois. Ill link the image of the Census in question, and hope its large enough for you to see well. If it isn't Ill email the image, you can zoom when you have the actual file and see pretty good. I hope someone can help out, this has been a really tough search....
Thanks for your time!!
Jason Hall
jsh82@comcast.net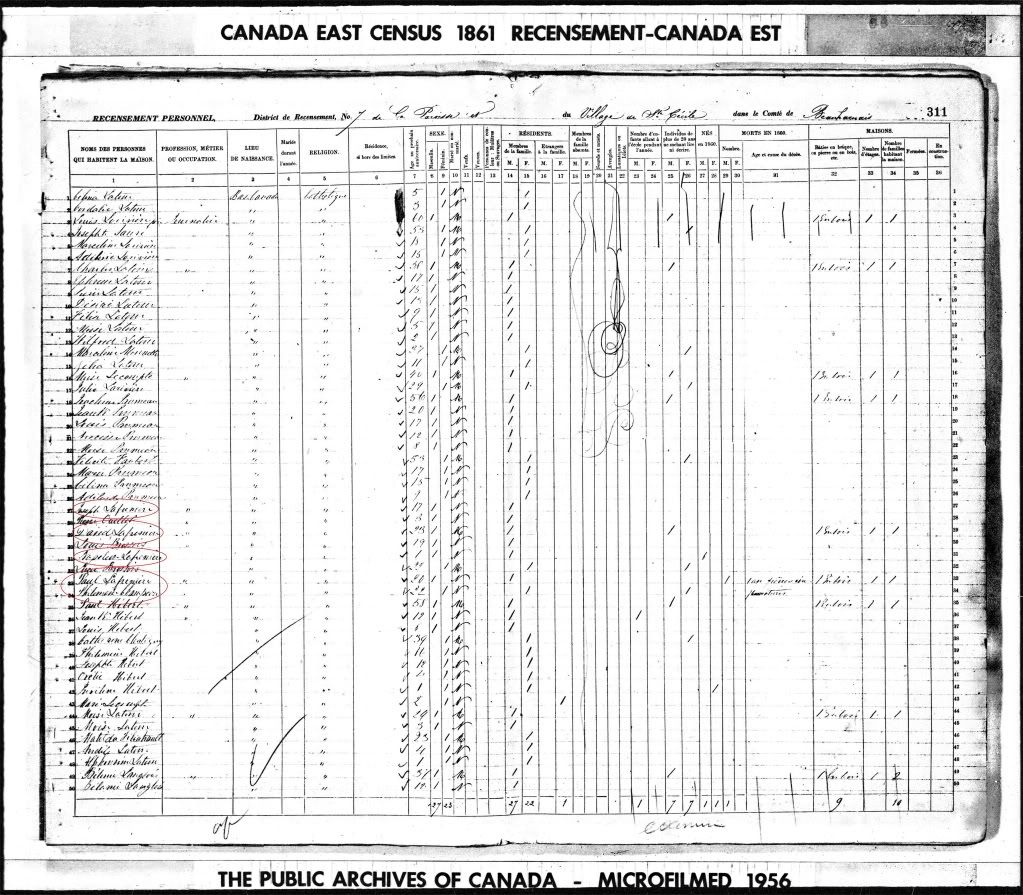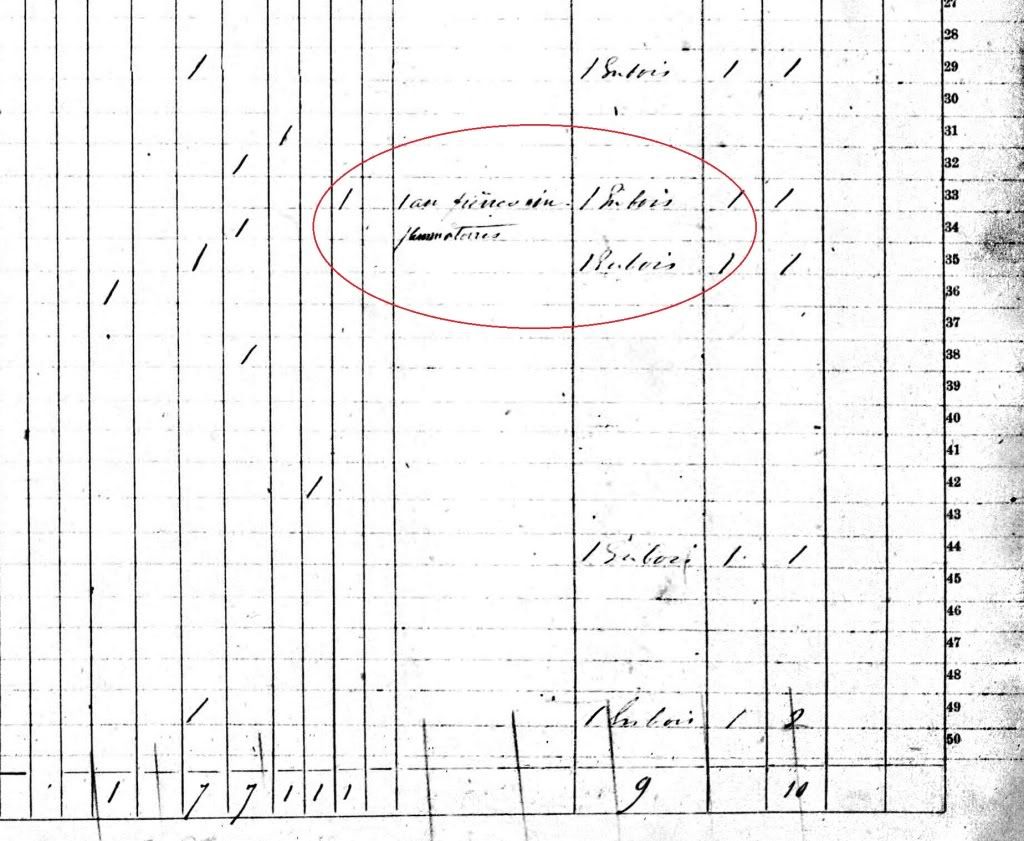 ---
Jason,

Can you enlarge the headings at the top of what you circled on the right side? Perhaps, if I can see the headings, I can better make sense of what the words are.

Mary
---
Here it is:
---
Column 31 says "age and cause of death". Above that it says " Deaths in 1860".

It looks like the couple had a male child who died in 1860 and was one year old. Sorry, I can't figure out the cause.

Column 32: House made of brick, stone or wood? Theirs was wood'

Column 33: How many floors? One.

Column 34: How many families live there? One.

Column 26: No. of people over 20 who can't read or write. Philomene.

That year they were also counting "lunatics and idiots (column 22). I see no one counted themselves in as such.

Mary
---
So was Paul and Philomene of the same household? I though it said they were each "single". Is there something I'm missing in this census? How can you tell who is in each household?
---
I can't tell if they were in the same household. It looks like there are some markings in the column in the extreme left, but I can't see them. If you can enlarge all the headings and then enlarge Paul's and Philome's rows all the way across and put the headings right over the rows I will be able to see at a glance what's under what column.

Mary
---
Might I send you the image through email? I can send the actual file and you can zoom way in with great clarity.
---
I sent you a PM with my email.

Mary
---
I took a close look at the census. You are right, they are both named as not married, yet on Paul's column it says that he had a son who died in 1860. Could it be that Paul was married before and was a widower and married Philomene after the census? I guess there could be a number of explanations, if it is them.

Column 2 = labourer
Column 3 = born in: Lower Canada
Column 7= age at next birthday

Sorry I can't be of any more help. Let me know if you come across anything else I can help with. Have you checked to see if the FHL has records for that area?

Mary
---
You've been great! I really do appreciate all your time looking at records with me. I'm searching now for birth records for Paul's children that came to Michigan with him.. and it's strange that I can't definitively find ANY of them. Is this normal? maybe records have not been uploaded to the internet yet? Its like there are no records of their life in Canada. I'm gathering records with names like theirs on it and I'll go through them to see what the parent names are.. but so far I've come up empty.. quite the mystery and it only makes me want to figure it out even more. Also, about Paul maybe having a son die, that could be the Paul Jr. we know nothing about.. not even a birth-date. A later census from after they came to Michigan says they were married in 1866, but I can't find a single record proving it. Oh well.. the search continues I guess, I just hope I'm not wasting my time and that there will never be a record to settle this. Thank you again!
---
Jason,

I understand your frustration. For 10 years I have been looking for a g-grandfather, who abandoned my g-grandmother with a 2-year old and pregnant with my grandfather and went to the US in 1901. A number of people on this forum and others have searched for him, but after he sponsored some cousins to come over in 1905, he seems to have disappeared.

Best of luck with your search.

Mary
---

Onomastico
Yesterday :
s. Isacco Jogues
Today :
s. Irene del Portogallo
Tomorrow :
s. Orsola