What would the world be like without Nutella: The Ferrero Family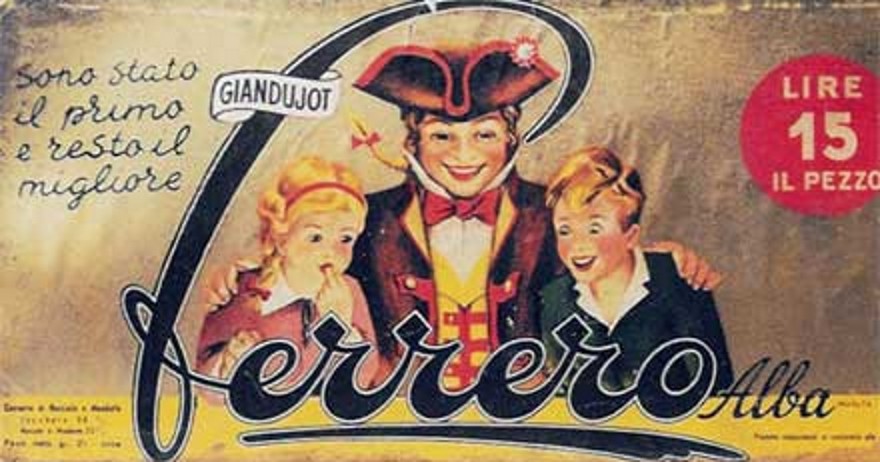 ​"Che mondo sarebbe senza nutella" is the official slogan of the wonderful hazelnut cream known as Nutella, appreciated by many and eaten worldwide. Few know that its invention was totally random and born out of necessity.
History
In 1946, at the end of WWII, chocolate was so expensive nobody could afford it in Italy. Therefor a Piedmontese pastry chef, Pietro Ferrero, decided to add some hazelnut cream and sugar to the few doses of cocoa they had available at that time. Doing so he created a "block" that he called "Giandujot", the name of the famous mask of Turin. Little did Ferrero know that the idea of using hazelnuts, which were cheap and widely available in the local territory, would turn out to be a genius idea.
A few years later, in 1951, the "Giandujot" dough was transformed into a spreadable cream which they called "SuperCrema" (SuperCream). But only in 1964, after several trials and numerous attempts, Pietro's son, Michele Ferrero, invented a new cream made with hazelnuts and cocoa. This new cream he called Nutella coming from the noun "nut" and the Italian suffix "ella". From there on it only took a few years for this spreadable cream to obtained a worldwide success, starting from Germany, followed by France and other European countries, until it reached Australia and the rest of the world.

The Ferrero Family
Pioneer of this immense heritage was Michele Ferrero who, supported by his wife Maria Franca Fissolo and despite the hard times of the postwar, was able to establish various plants and operating offices in Italy and abroad. By doing so he rather quickly turned the Ferrero company into a major international group, in the confectionary sector.
In 1956 Ferrero opened in Stadtallendorf, Germany, its first plant abroad. In 1960 a second plant was opened near Milan, in Pozzuola Martesana, Italy. From that moment on the company kept expanding by opening offices and plants all over Europe and the rest of the world.

In 1997 Pietro and Giovanni Ferrero, Michele's sons, became CEOs of the company. Thanks to them, the company rises significantly and in 2014 Forbes magazine nominates Michele Ferrero and his family as the no.1 richest man in Italy and the 30th richest man worldwide.

On April 18th 2011, Pietro Ferrero dies in South Africa at the age of 47 due to a heart attack. From that moment on his brother Giovanni remains the only CEO of the company.

On February 14th 2015, after a long illness, Michele Ferrero dies in Monte Carlo at the age of 89. Ferrero's pioneer and inventor of the most eaten chocolate cream in the world, leaves behind a strong and successful family business that keeps conquering the world, with Nutella as it leading product.

Comment for this post has been locked by admin.

Onomastico
Yesterday :
s. Savino
Today :
s. Timoteo, s. Tito
Tomorrow :
s. Angela Merici