Hi there,
I'm hoping to put together a picture of my Wife's grandfather's war time service and a bit of Googling means this is my first stop ...
I'd be grateful if anyone could translate the information on the following document which appears to be a copy of his service record - I only have a scan of the documant so unfortunately I'm unable to clarify any letters or words that might be unclear,
I know very little Italian so here's my take on it -
He joined the 55th Reg 'Brescia' Artillery Division, then there is a bit I'm slighty confused about - the mention of the ?8th reg Artillery '???o' ?
His service number was : 4938/341?
Went operational in June of 1940? and I guess he was captured 20th January 1941?
Discharged in Taranto 1946?
here's the paperwork: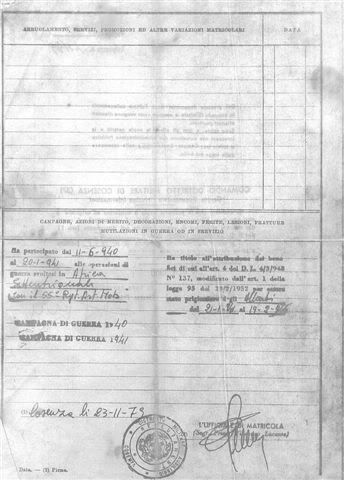 Tony ended up as a POW in South Africa before coming to Scotland where he started a little Italian empire of his own
Any info grately appreciated.
---
Elite

Posts: 405
Joined: 11 Jun 2008, 16:52
Location: Piedmont (Biella) & Veneto (Venice), Italy
Hi Ollyjoe,
if your wife's grandfather was a POW in South Africa then he was in Zonderwater Camp. If you need an attestation I will give you the e-mail of Mr. Emilio Coccia who's the President of the Zonderwater Association.

I will try and translate but I'm not very experienced at military terms. I hope you will understand anyway.

Joined the 55th "Brescia" Artillery Regiment amninistered by the 48th Department "Taro" Artillery Regiment according to Ministerial Disposal n. 4938/341 dated 11.11.1939 on Dec. 1, 1939

On operational area on Jun 11(?) 1940

Stops to be in operational area on Jan 20, 1941

POW in consequence of the army events occurred in Northern Africa
and kept in Scotland on Jan 21 1941

Repatriated and disimbarked in Taranto on Feb 19 1946

Quartered in Taranto on Feeb 19 1946

Sent on 60 days extraordinary leave on Feb 23 1946

Then there is a usual sentence saying that he could not be charged with any fault for his capture etc.

Discharged (circular 22760/...? dated Sep 19, 1945) on Apr 23, 1946

Definately discharged (cir. 525 of Nov 9, 1962) on Dec 31, 1962


Cosenza, Nov 23 1979



I have to save the second page to be able to read. I'll post it later.


Ada
---
Elite

Posts: 405
Joined: 11 Jun 2008, 16:52
Location: Piedmont (Biella) & Veneto (Venice), Italy
Back page:

He took part to the war operations in Northern Africa from June 11, 1940 to Jan 20, 1941 with the 55th Mobile Artillery Regiment.

War Campaign 1940
War Campaign 1941


My father was a POW too, caught in Lybia on January 1941, sent to Egypt then to South Africa and then to Wales. He was repatriated on May 1946.
If you need a detail of were Tony was caught and the camps he was kept let me know and I'll tell you how to get those info which are in possession of the Int. Red Cross.

Regards Ada
---
Superb Ada - Thank you very much.

I had guessed at 'Taro' but wasn't sure, Tony was from Calabria and the references to a Northern City and River had put me off - I thought the regimental 'locations' would have been similar to that of the WW1 Pals regiments?

It might also explain why his family thought he was Alpini !?

I've already read up on Zonderwater and found it totally fascinating - what a place - I had also read that Mr Coccia didn't have an e-mail address so I'd very much appreciate that,

and off course the red cross information would be great. Thanks.

Tony met a Scottish girl and they settled back in Italy after the War but 'Mama' became homesick (after having 4 children) and they returned to Scotland - Mama and Papa died a few years ago and I thought I'd try and put a bit of the story together,

Thanks for your help so far.

Gary.
---
Elite

Posts: 405
Joined: 11 Jun 2008, 16:52
Location: Piedmont (Biella) & Veneto (Venice), Italy
Hi Gary,
I don't know much about military problems so I don't know if Mobile Artillery had something to do with the "Alpini" Corp. May be. I guess other members here could give you an explanation.
My father was caught in Bardia (or Bardya) on January 3, 1941. I suppose Tony was caught in Libya too. POWs were several thousand and were kept in transit camps in Egypt, near Suez. From there they were sent to different places. Zonderwater wasn't that fascinating for the first two years. I have a couple of books written by exPOWs. Unfortunately they are in Italian.
This is the link for the International Red Cross:
Web Page Name
They say you'll have to wait for three months but it might take six.
I will send you Mr. Coccia e-mail adress with a PM.
Ada
---
Elite

Posts: 405
Joined: 11 Jun 2008, 16:52
Location: Piedmont (Biella) & Veneto (Venice), Italy
Just realized I didn't post it correctly, so here it is:

[url=http://]http://www.icrc.org/eng/contact-archives[/url]


Ada
---
Elite

Posts: 405
Joined: 11 Jun 2008, 16:52
Location: Piedmont (Biella) & Veneto (Venice), Italy
---
Thanks Ada - I've sent you a PM.
---


Onomastico
Yesterday :
s. Orsola
Today :
s. Donato di Fiesole
Tomorrow :
s. Giovanni da Capestrano