Finding Noble Roots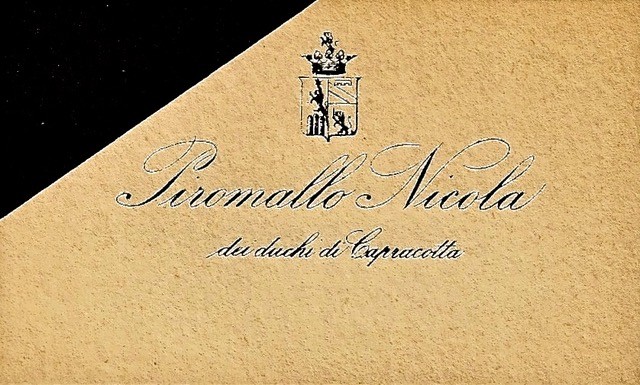 Ever since I was a little boy, my dad would show me my great grandfather's card, and tell me that he was a count in Italy. I was always intrigued by that, but never really thought about asking my grandmother questions, or anyone else for that matter. About ten years ago, as more and more information was coming available, and after doing my first DNA test, I was determined to find out who Nicola Piromallo was and if he was really part of Italian Nobility. Little did i know that this would lead me to ancestors that were Kings and Queens of almost every European country, Saints and even a few Popes.
My first search turned up a Nicola Cte Piromallo marrying Emilia Caracciolo in 1882 in the Libro d'Oro records. The names and dates were right, as my grandmother was born in 1883, but I never heard the name Caracciolo mentioned. I called my older cousin that lived with my grandmother as a child and she confirmed that Caracciolo was indeed my grandmother's moms surname. She also told me that my grandmother told her that there was a famous Italian Admiral and a Saint that were distant relatives.

There are three Caracciolo lines, going back to 900 AD in Naples, Rossi Pisquizi and Del Sole. My great grandmother is part of the Rossi line and the Princes of Avellino and Torchiarolo. During the Spanish rule of southern Italy, these families married into the Spanish Royalty, specifically the Aragonese. As I was uncovering this information, I have to admit, I was becoming more and more skeptical that this was my family. However, I did eventually find the birth and death records of Emilia Caracciolo proving that she was my great grandmother.

As for Nicola Piromallo, it took me a very long time, to verify his family. Once again, I used the Libro d'Oro, As Piromallo is a very uncommon name, there was only one family. However, the name on the record was Piromallo Capece Piscicelli. My great grandfather is not listed, nor is his father. This was very confusing. I eventually enlisted some professional help. They found the records for Nicola and his father that showed that my third great grandparents were Count Giacomo Piromallo of Montebello and Duchess Beatrice Capece Piscicelli were my direct ancestors. The duchess merged the family names after Count Giacomo died and only the first son, the heir and his descendants took the merged family names. I was able to confirm this with cousins I found in Italy. The same was true for their family.

In addition to the Libro d'Oro, both families have been documented in the Nobili Napoletani, the record of Naples Nobility. This publication gives more detail into the history of the families.
Comments
No comments made yet. Be the first to submit a comment

Onomastico
Yesterday :
s. Savino
Today :
s. Timoteo, s. Tito
Tomorrow :
s. Angela Merici