The Prince and I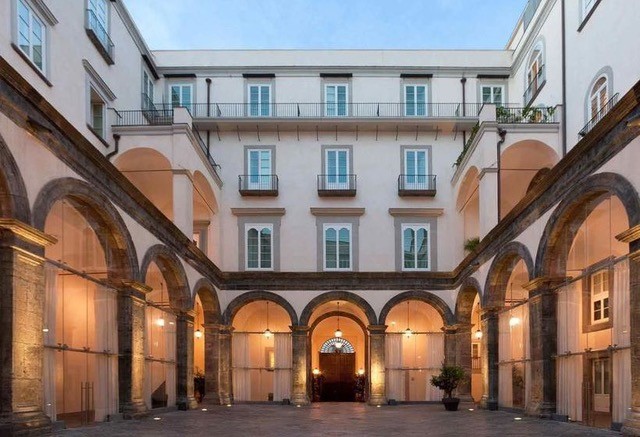 One of the most fun things that I discovered in my research was finding my look alike ancestor, Prince Marino Caracciolo II. Don Marino descends from the Caracciolo Rossi family, one of the oldest families in Naples, that date back to 950 AD. He was born in Atripalda on 9-6-1587 and died in Naples on 4-11-1630. His father was Don Camillo Count of Torella and Prince of Avellino. His mother was Donna Roberta Carafa, the daughter of Don Marizio the Duke of Maddaloni.
During his relatively short life, Don Marino held multiple titles, including Prince of Avellino, Duke of Atripalda, Count of Serino and Marquis of Sanseverino. He was also the Grand Chancellor to the Kingdom of Naples in 1617. And in 1622, he was made a Knight of the Golden Fleece.
Don Marino married twice, first to Donna Lucrezia Aldobrandini the daughter of Gianfrancesco the Prince of Rossano in 1612. They did not have any children. In 1618, he married my 8th Great Grandmother, Donna Francesca d'Avalos d'Aquino d'Aragona, the daughter of Don Ingo the Prince of Francavilla.
According to the book by Alfred de Reumont, "Naples Under Spanish Dominion", Prince Marino kept a magnificent establishment. As most persons of his rank at the time, there was plenty of opportunity to serve in a military campaign, as Spain was always at war. His palace in the capital, Naples ( now the Hotel Caracciolo ), as well as the palazzo in Avellino, were perpetually filled with musicians and poets.
Unfortunately, his son that was born after his death, squandered most of the money and eventually burdened the property with debt. Don Marino died in the convent of San Giovanni a Carbonara. His death took place just as he was returning from a visit to some of his possessions. He had desired that his body be sent to Avellino for burial, but his brother, the Prince of Torella, ordered that it be carried to San Paolo. The monks of San Giovanni would not release the body. The Theatine monks came in the middle of the night to fetch the body and carry it away. The monks of St. Augustin opposed their entrance. In a moment hundreds of swords were drawn, but eventually the body of Don Marino was transported to Avellino for burial.

Quite an amazing story! One has to wonder what it would be like to be able to go back in time and see all this play out. I'll let you decide about the family resemblance. I was 28 in the photo and my guess is the prince was close to the same age.
Comments
No comments made yet. Be the first to submit a comment